Quotes can convey a powerful message. Throughout history there are many people we can admire or aspire to. Those people can share their life experience and wisdom by embedding it into a short message.
When it comes to travelling sometimes we need a little bit of inspiration. Open your mind and have a read through the most powerful quotes that might inspire you to go on a journey or make you think about certain things from a different perspective. 
Here is our list of the best travel quotes out there.
Since this is quite a long article, here are some sections:
Best 25 Travel quotes
1. I travel not to go anywhere, but to go. I travel for travel's sake. The great affair is to move.

Robert Louis Stevenson, Travels with a Donkey in the Cevennes
2. The real voyage of discovery consists not in seeking new landscapes, but in having new eyes.

Marcel Proust
3. The traveler sees what he sees. The tourist sees what he has come to see.

G.K. Chesterton
4. Every dreamer knows that it is entirely possible to be homesick for a place you've never been to, perhaps more homesick than for familiar ground.

Judith Thurman
5. The world is a book and those who do not travel read only one page.

Augustine of Hippo
6. It is good to have an end to journey toward; but it is the journey that matters, in the end.

Ursula K. Le Guin, The Left Hand of Darkness
7. Now more than ever do I realize that I will never be content with a sedentary life, that I will always be haunted by thoughts of a sun-drenched elsewhere.

Isabelle Eberhardt, The Nomad: The Diaries of Isabelle Eberhardt
8. All that is gold does not glitter, Not all those who wander are lost.

J.R.R. Tolkien, The Fellowship of the Ring
9. To travel is to live.

Hans Christian Andersen, The Fairy Tale of My Life: An Autobiography
10. The journey of a thousand miles begins with a single step.

Lao Tzu
11. May came home with a smooth round stone as small as a world and as large as alone.

E.E. Cummings
12. What is that feeling when you're driving away from people and they recede on the plain till you see their specks dispersing? – it's the too-huge world vaulting us, and it's good-bye. But we lean forward to the next crazy venture beneath the skies.

Jack Kerouac, On the Road
13. We travel, some of us forever, to seek other states, other lives, other souls.

Anaïs Nin, The Diary of Anaïs Nin, Vol. 7: 1966-1974
14. I have found out that there ain't no surer way to find out whether you like people or hate them than to travel with them.

Mark Twain, Tom Sawyer Abroad
15. I address you all tonight for who you truly are: wizards, mermaids, travelers, adventurers, and magicians. You are the true dreamers.

Brian Selznick, The Invention of Hugo Cabret
16. Though we travel the world over to find the beautiful, we must carry it with us, or we find it not.

Ralph Waldo Emerson, Emerson's Essays
17. Not all those who wander are lost.

J.R.R. Tolkien, The Fellowship of the Ring
18. Travel makes one modest. You see what a tiny place you occupy in the world.

Gustave Flaubert
19. Books are the plane, and the train, and the road. They are the destination, and the journey. They are home.

Anna Quindlen, How Reading Changed My Life
20. Travel brings power and love back into your life.

Rumi
21. I read; I travel; I become

Derek Walcott
22. I am awfully greedy; I want everything from life. I want to be a woman and to be a man, to have many friends and to have loneliness, to work much and write good books, to travel and enjoy myself, to be selfish and to be unselfish… You see, it is difficult to get all which I want. And then when I do not succeed I get mad with anger.

Simone de Beauvoir
23. Wherever you go becomes a part of you somehow.

Anita Desai
24. Travel far enough, you meet yourself.

David Mitchell, Cloud Atlas
25. Travel is fatal to prejudice, bigotry, and narrow-mindedness, and many of our people need it sorely on these accounts. Broad, wholesome, charitable views of men and things cannot be acquired by vegetating in one little corner of the earth all one's lifetime.

Mark Twain, The Innocents Abroad / Roughing It
Best 26 to 51 Travel quotes
26. In books I have traveled, not only to other worlds, but into my own.

Anna Quindlen, How Reading Changed My Life
27. A good traveler has no fixed plans and is not intent on arriving.

Lao Tzu
28. We leave something of ourselves behind when we leave a place, we stay there, even though we go away. And there are things in us that we can find again only by going back there.

Pascal Mercier, Night Train to Lisbon
29. Why do you go away? So that you can come back. So that you can see the place you came from with new eyes and extra colors. And the people there see you differently, too. Coming back to where you started is not the same as never leaving.

Terry Pratchett, A Hat Full of Sky
30. I think you travel to search and you come back home to find yourself there.

Chimamanda Ngozi Adichie
31. I wandered everywhere, through cities and countries wide. And everywhere I went, the world was on my side.

Roman Payne, Rooftop Soliloquy
32. Our battered suitcases were piled on the sidewalk again; we had longer ways to go. But no matter, the road is life

Jack Kerouac, On the Road
33. The journey itself is my home.

Matsuo Bashō
34. To travel is worth any cost or sacrifice.

Elizabeth Gilbert, Eat, Pray, Love
35. To move, to breathe, to fly, to float, To gain all while you give, To roam the roads of lands remote, To travel is to live.

Hans Christian Andersen, The Fairy Tale of My Life: An Autobiography
36. Cities were always like people, showing their varying personalities to the traveler. Depending on the city and on the traveler, there might begin a mutual love, or dislike, friendship, or enmity. Where one city will rise a certain individual to glory, it will destroy another who is not suited to its personality. Only through travel can we know where we belong or not, where we are loved and where we are rejected.

Roman Payne, Cities & Countries
37. Never did the world make a queen of a girl who hides in houses and dreams without traveling.

Roman Payne, The Wanderess
38. People do not die for us immediately, but remain bathed in a sort of aura of life which bears no relation to true immortality but through which they continue to occupy our thoughts in the same way as when they were alive. It is as though they were traveling abroad.

Marcel Proust
39. We may sit in our library and yet be in all quarters of the earth.

John Lubbock, The Pleasures of Life
40. See the world. It's more fantastic than any dream made or paid for in factories. Ask for no guarantees, ask for no security.

Ray Bradbury, Fahrenheit 451
41. It can hardly be a coincidence that no language on earth has ever produced the expression, 'As pretty as an airport.

Douglas Adams, The Long Dark Tea-Time of the Soul
42. There are no foreign lands. It is the traveler only who is foreign.

Robert Louis Stevenson, The Silverado Squatters by Robert Louis Stevenson, Fiction, Historical, Literary
43. Do we really want to travel in hermetically sealed popemobiles through the rural provinces of France, Mexico and the Far East, eating only in Hard Rock Cafes and McDonalds? Or do we want to eat without fear, tearing into the local stew, the humble taqueria's mystery meat, the sincerely offered gift of a lightly grilled fish head? I know what I want. I want it all. I want to try everything once.

Anthony Bourdain, Kitchen Confidential: Adventures in the Culinary Underbelly
44. One's destination is never a place, but a new way of seeing things.

Henry Miller
45. We wanderers, ever seeking the lonelier way, begin no day where we have ended another day; and no sunrise finds us where sunset left us. Even while the earth sleeps we travel. We are the seeds of the tenacious plant, and it is in our ripeness and our fullness of heart that we are given to the wind and are scattered.

Kahlil Gibran, The Prophet
46. Make voyages. Attempt them. There's nothing else.

Tennessee Williams, Camino Real
47. Everything I was I carry with me, everything I will be lies waiting on the road ahead.

Ma Jian, Red Dust: A Path Through China
48. My dream is to walk around the world. A smallish backpack, all essentials neatly in place. A camera. A notebook. A traveling paint set. A hat. Good shoes. A nice pleated (green?) skirt for the occasional seaside hotel afternoon dance.

Maira Kalman, The Principles of Uncertainty
49. No matter where you are, you're always a bit on your own, always an outsider.

Banana Yoshimoto, Goodbye Tsugumi
50. I am not the same having seen the moon shine on the other side of the world.

Mary Anne Radmacher
Best 51 to 75 Travel quotes
51. But that's the glory of foreign travel, as far as I am concerned. I don't want to know what people are talking about. I can't think of anything that excites a greater sense of childlike wonder than to be in a country where you are ignorant of almost everything. Suddenly you are five years old again. You can't read anything, you have only the most rudimentary sense of how things work, you can't even reliably cross a street without endangering your life. Your whole existence becomes a series of interesting guesses.

Bill Bryson, Neither Here nor There: Travels in Europe
52. If you reject the food, ignore the customs, fear the religion, and avoid the people, you might better stay home.

James A. Michener
53. Travel brings wisdom only to the wise. It renders the ignorant more ignorant than ever.

Joe Abercrombie, Last Argument of Kings
54. Some beautiful paths can't be discovered without getting lost.

Erol Ozan
55. The world is a book, and those who don't travel only read one page.

Augustine of Hippo
56. There's something about arriving in new cities, wandering empty streets with no destination. I will never lose the love for the arriving, but I'm born to leave.

Charlotte Eriksson, Empty Roads & Broken Bottles; in search for The Great Perhaps
57. Wherever you go, you take yourself with you.

Neil Gaiman, The Graveyard Book
58. …there ain't no journey what don't change you some.

David Mitchell, Cloud Atlas
59. Because he had no place he could stay in without getting tired of it and because there was nowhere to go but everywhere, keep rolling under the stars…

Jack Kerouac, On the Road
60. It is always sad to leave a place to which one knows one will never return. Such are the melancolies du voyage: perhaps they are one of the most rewarding things about traveling.

Gustave Flaubert, Flaubert in Egypt: A Sensibility on Tour
61. Travel is fatal to prejudice, bigotry, and narrow-mindedness.

Mark Twain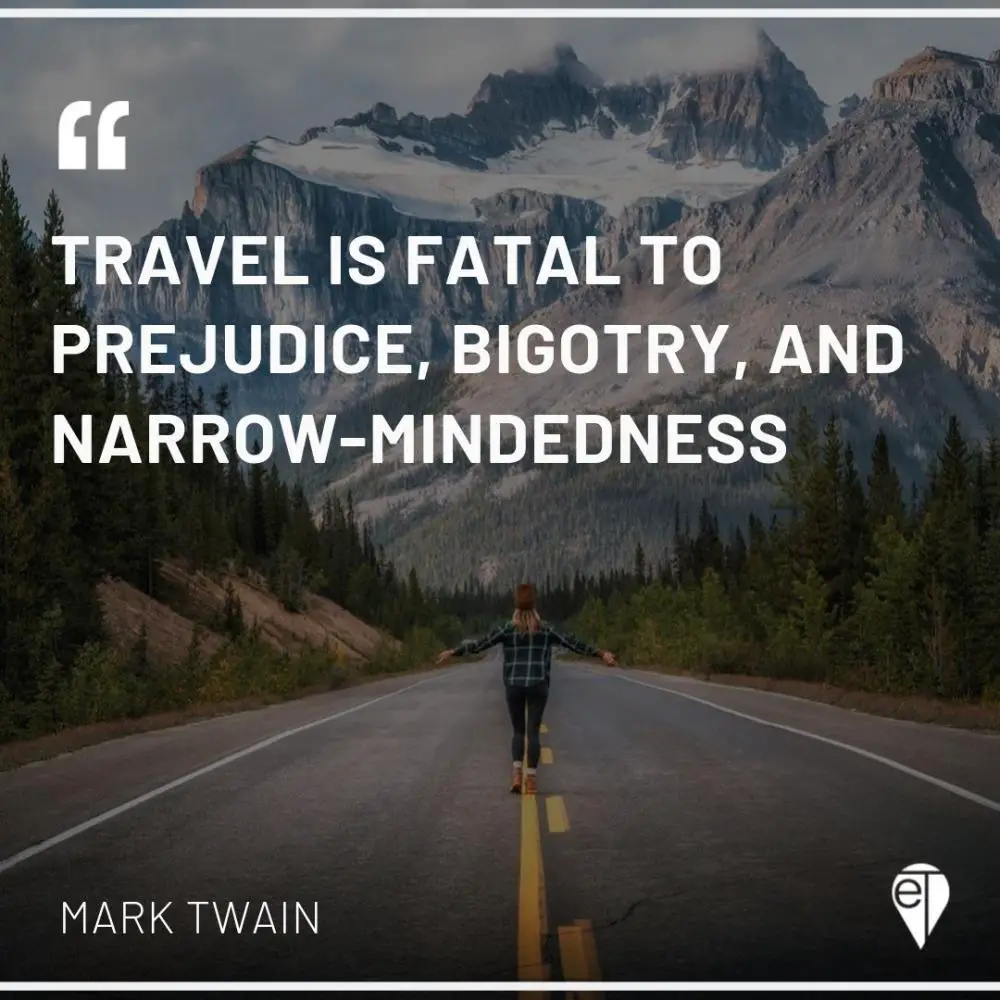 62. O, Sunlight! The most precious gold to be found on Earth.

Roman Payne
63. So shut up, live, travel, adventure, bless and don't be sorry

Jack Kerouac, Desolation Angels
64. Don't let your luggage define your travels, each life unravels differently.

Shane L. Koyczan
65. If you're twenty-two, physically fit, hungry to learn and be better, I urge you to travel – as far and as widely as possible. Sleep on floors if you have to. Find out how other people live and eat and cook. Learn from them – wherever you go.

Anthony Bourdain, Medium Raw: A Bloody Valentine to the World of Food and the People Who Cook
66. If I'm an advocate for anything, it's to move. As far as you can, as much as you can. Across the ocean, or simply across the river. The extent to which you can walk in someone else's shoes or at least eat their food, it's a plus for everybody. Open your mind, get up off the couch, move.

Anthony Bourdain
67. Caelum non animum mutant qui trans mare currunt. (They change their sky, not their soul, who rush across the sea.)

Horace, The Odes of Horace
68. I pack my trunk, embrace my friends, embark on the sea and at last wake up in Naples, and there beside me is the stern fact, the sad self, unrelenting, identical, that I fled from.

Ralph Waldo Emerson
69. There are several ways to react to being lost. One is to panic: this was usually Valentina's first impulse. Another is to abandon yourself to lostness, to allow the fact that you've misplaced yourself to change the way you experience the world.

Audrey Niffenegger, Her Fearful Symmetry
70. Everything will be alright in the end so if it is not alright it is not the end.

Deborah Moggach, The Best Exotic Marigold Hotel
71. We live in a wonderful world that is full of beauty, charm and adventure. There is no end to the adventures we can have if only we seek them with our eyes open.

Jawaharlal Nehru
72. Self-consciousness kills communication.

Rick Steves
73. No man is brave that has never walked a hundred miles. If you want to know the truth of who you are, walk until not a person knows your name. Travel is the great leveler, the great teacher, bitter as medicine, crueler than mirror-glass. A long stretch of road will teach you more about yourself than a hundred years of quiet.

Patrick Rothfuss
74. When one is travelling, everything looks brighter and lovelier. That does not mean it IS brighter and lovelier; it just means that sweet, kindly home suffers in comparison to tarted-up foreign places with all their jewels on.

Catherynne M. Valente, The Girl Who Circumnavigated Fairyland in a Ship of Her Own Making
75. Once you have travelled, the voyage never ends, but is played out over and over again in the quietest chambers. The mind can never break off from the journey.

Pat Conroy
Best 76 to 100 Travel quotes
76. The very basic core of a man's living spirit is his passion for adventure. The joy of life comes from our encounters with new experiences, and hence there is no greater joy than to have an endlessly changing horizon, for each day to have a new and different sun.

Christopher McCandless
77. I saw in their eyes something I was to see over and over in every part of the nation- a burning desire to go, to move, to get under way, anyplace, away from any Here. They spoke quietly of how they wanted to go someday, to move about, free and unanchored, not toward something but away from something. I saw this look and heard this yearning everywhere in every states I visited. Nearly every American hungers to move.

John Steinbeck, Travels with Charley: In Search of America
78. The Wanderlust has got me… by the belly-aching fire

Robert W. Service, Rhymes of a Rolling Stone
79. Books are not about passing time. They're about other lives. Other worlds. Far from wanting time to pass, one just wishes one had more of it. If one wanted to pass the time one could go to New Zealand.

Alan Bennett, The Uncommon Reader
80. We travel, initially, to lose ourselves; and we travel, next to find ourselves. We travel to open our hearts and eyes and learn more about the world than our newspapers will accommodate. We travel to bring what little we can, in our ignorance and knowledge, to those parts of the globe whose riches are differently dispersed. And we travel, in essence, to become young fools again- to slow time down and get taken in, and fall in love once more.

Pico Iyer
81. There's a part of me that thinks perhaps we go on existing in a place even after we've left it.

Colum McCann, Let the Great World Spin
82. Travel is glamorous only in retrospect.

Paul Theroux
83. Paradise was always over there, a day's sail away. But it's a funny thing, escapism. You can go far and wide and you can keep moving on and on through places and years, but you never escape your own life. I, finally, knew where my life belonged. Home.

J. Maarten Troost, Getting Stoned with Savages: A Trip Through the Islands of Fiji and Vanuatu
84. No one realizes how beautiful it is to travel until he comes home and rests his head on his old, familiar pillow.

Lin Yutang
85. If you really want to escape the things that harass you, what you're needing is not to be in a different place but to be a different person.

Seneca, Letters from a Stoic
86. We can't jump off bridges anymore because our iPhones will get ruined. We can't take skinny dips in the ocean because there's no service on the beach and adventures aren't real unless they're on Instagram. Technology has doomed the spontaneity of adventure and we're helping destroy it every time we Google, check-in, and hashtag.

Jeremy Glass
87. Every one of a hundred thousand cities around the world had its own special sunset and it was worth going there, just once, if only to see the sun go down.

Ryū Murakami, Coin Locker Babies
88. A man travels the world over in search of what he needs and returns home to find it.

George Moore
89. So I find words I never thought to speak In streets I never thought I should revisit When I left my body on a distant shore.

T.S. Eliot
90. She watched the gap between ship and shore grow to a huge gulf. Perhaps this was a little like dying, the departed no longer visible to the others, yet both still existed, only in different worlds.

Susan Wiggs, The Charm School
91. The person you have known a long time is embedded in you like a jewel. The person you have just met casts out a few glistening beams & you are fascinated to see more of them. How many more are there? With someone you've barely met the curiosity is intoxicating.

Naomi Shihab Nye
92. When you travel, remember that a foreign country is not designed to make you comfortable. It is designed to make its own people comfortable.

Clifton Fadiman
93. I wonder if the ocean smells different on the other side of the world.

J.A. Redmerski, The Edge of Never
94. There is a kind of magicness about going far away and then coming back all changed.

Kate Douglas Wiggin, New Chronicles of Rebecca
95. Did you ever notice that the first piece of luggage on the carousel never belongs to anyone?

Erma Bombeck
96. People wonder why so many writers come to live in Paris. I've been living ten years in Paris and the answer seems simple to me: because it's the best place to pick ideas. Just like Italy, Spain.. or Iran are the best places to pick saffron. If you want to pick opium poppies you go to Burma or South-East Asia. And if you want to pick novel ideas, you go to Paris.

Roman Payne, Crepuscule
97. For West is where we all plan to go some day. It is where you go when the land gives out and the old-field pines encroach. It is where you go when you get the letter saying: Flee, all is discovered. It is where you go when you look down at the blade in your hand and the blood on it. It is where you go when you are told that you are a bubble on the tide of empire. It is where you go when you hear that thar's gold in them-thar hills. It is where you go to grow up with the country. It is where you go to spend your old age. Or it is just where you go.

Robert Penn Warren
98. I tramp a perpetual journey.

Walt Whitman, Song of Myself
99. Men read maps better than women because only men can understand the concept of an inch equalling a hundred miles.

Roseanne Barr, The Brook Kerith
100. Every mode of travel has its signature mental aberration.

Mary Roach, Packing for Mars: The Curious Science of Life in the Void