Enjoy a glass of mulled wine and some bratwurst, have a go on the ice skating ring or just browse through beautiful Christmas stalls. In this article we list 10 best Christmas markets in the UK.
1. Winter Wonderland, London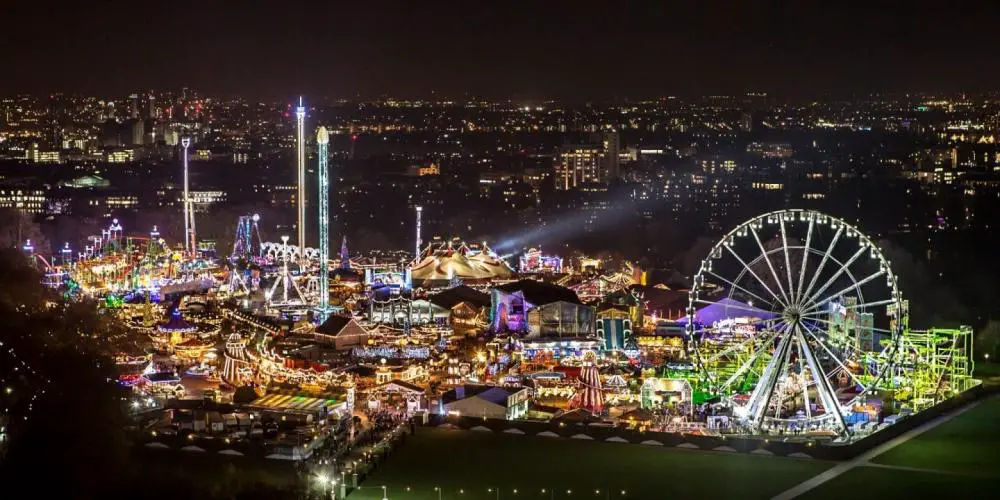 Where: Hyde Park, London
When: 21 November – 5 January 2019
Winter Wonderland is the most popular Christmas market in the UK. It has been visited by more than 3 million people in 2018 and this year the numbers are going to be even bigger. There will be more than 100 rides and attractions featuring an observation wheel, UK's largest outdoor Ice Skate Ring, a big display of ice sculptures, Santa land and much more. The park will also have a Bavarian themed village where you can warm yourself up with a glass of mulled wine and a massive hot dog. And if you want to buy a souvenir while wondering through Winter Wonderland there will be loads of stalls with cute Christmas gifts. All in all it is a great destination for a fun day out with the family or a group of friends. Winter Wonderland is a Christmas market on a massive scale, if you would like to do an activity we do recommend to book a ticket in advance through their official website.
2. Bath Christmas Market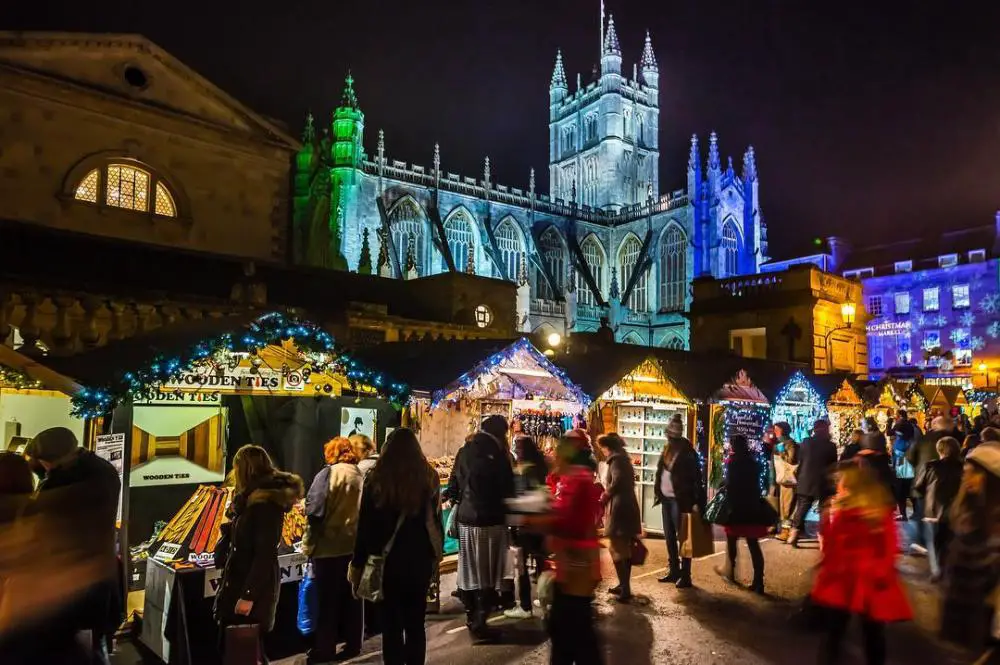 Where: Abbey Square, Bath
When: 28 November – 15 December 2019
Bath is one of the most beautiful cities in the UK and is also a popular destination for Spa goers. The city attracts tourists with its beautiful Georgian architecture style where most buildings are made from big yellow bath stones. During winter months the city centre is transformed into a beautiful market giving its visitors a unique Christmas experience. Not far from the Bath Abbey you will find more than 150 chalets decorated in Christmas lights. Throughout the city you will find food stalls serving warm cider and wine, people singing Christmas carols, shows and much more. Bath Christmas Market will easily get you into the festive mood! 
3. Birmingham Frankfurt Christmas Market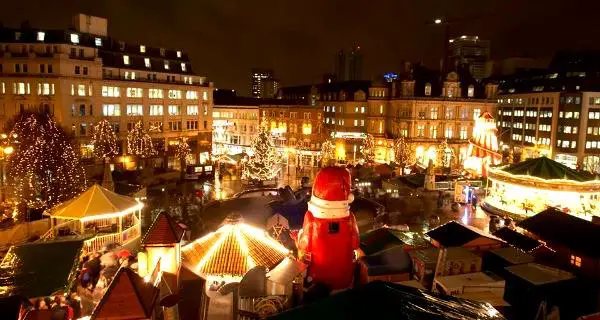 Where: Victoria Square, Birmingham
When: 7 November – 23 December 2019
It is the largest most authentic German Christmas Market outside Germany and Austria. Birmingham Frankfurt Christmas Market offers a unique selection of stalls that sell wooden toys, Christmas decorations and German sausages with glühwein. The market appeals with its Christmas charm to both locals as well as visitors making it a great place to visit during winter months. 
4. Glasgow George Square Christmas Market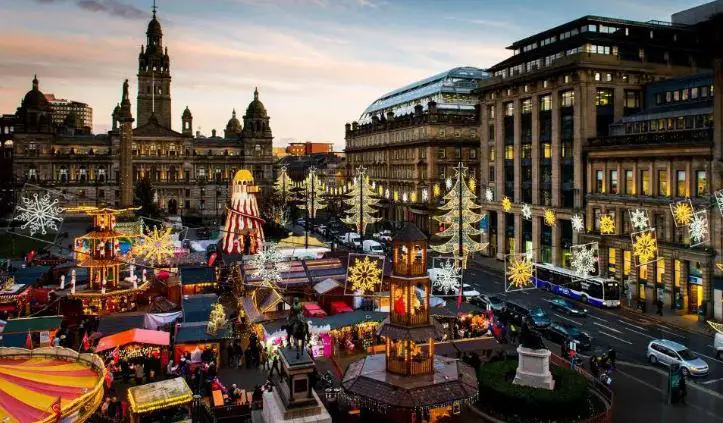 Where: George Square, Glasgow
When: 9 December – 31 December 2019
If you are visiting Scotland and looking for that  Christmas spirit then George Square Christmas market in Glasgow is definitely worth going to. What is special about this market is that it blends multiple cultures allowing you to see decorations and toys from all around the world: painted Russian dolls, Italian nougat, traditional decorations from Kenya and other beautiful things. Experience flashy fireworks, Christmas carnival, Santa flash mob and a bunch pantomime and theatre shows.
5. Christkindelmarkt, Leeds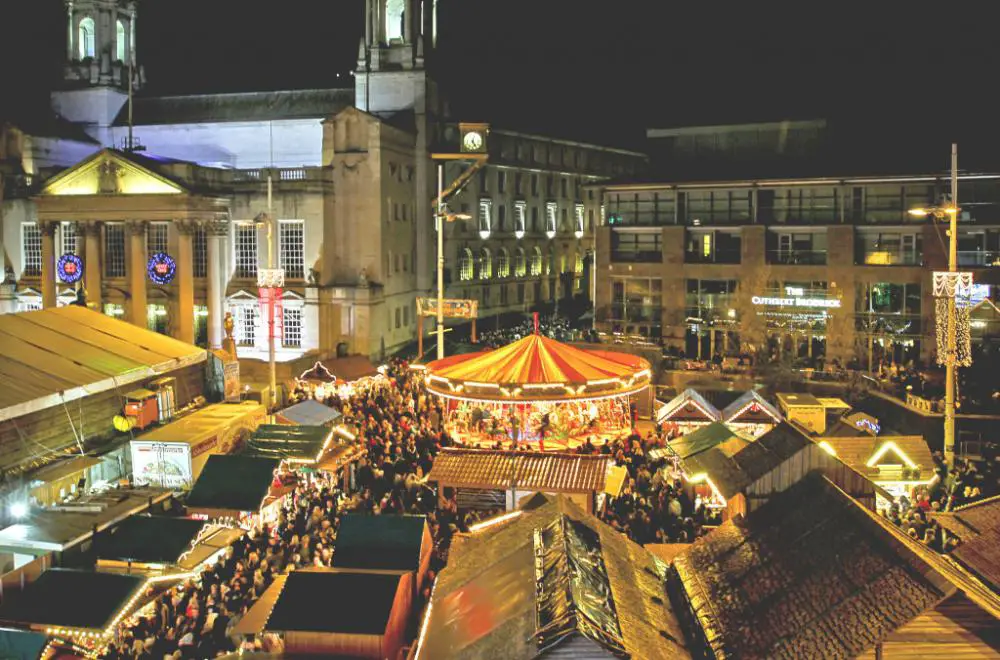 Where: Millennium Square, Leeds
When: 8 November – 21 December 2019
Fill your bellies with schnitzels, bratwurst, goulash and other tasty things at this magical Christmas market. And if you have a little one you can treat him to a breakfast with Santa. The stalls are full of beautiful hand crafted jewellery, handcrafted Christmas gifts and much more. 
Highlight: Alp Chalet a restaurant with delicious Bavarian styled eatery.
6. Manchester Albert Square Christmas Markets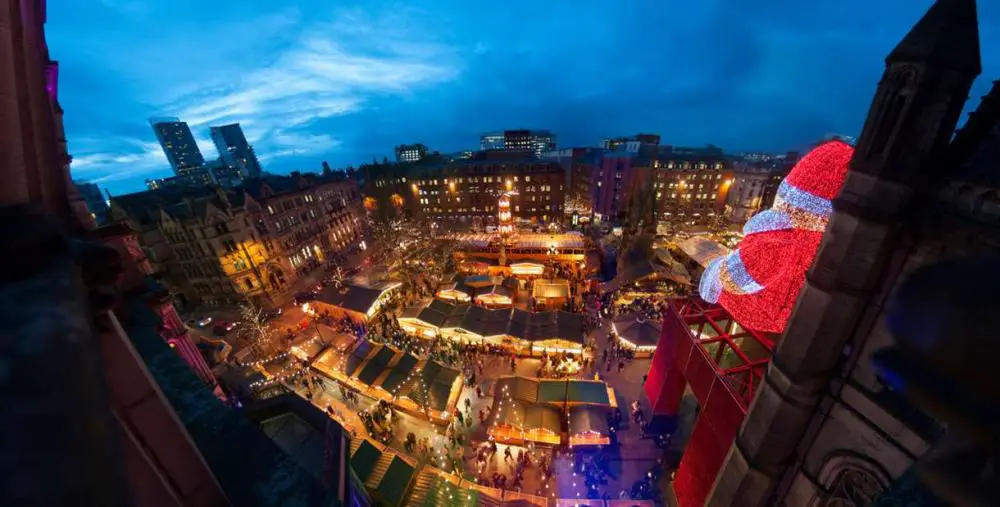 Where: Albert Square, Manchester
When: 8 November to 22 December 2019
In the heart of Manchester opposite the Gothic Town Hall the city will be taken over by mesmerising Christmas lights and festive vibes. Similar to other markets you will find delicious German food, decorated stalls and fun activities. However, unlike any other Christmas market in the UK, Manchester will feature the largest display of ice sculptures.
Highlight: The Cathedral Gardens will be transformed into an ice village featuring the UK's largest display of ice sculptures. Step into the Ice Cavern, see Santa's Grotto or have a drink at the Ice Bar.
7. Winchester Christmas Market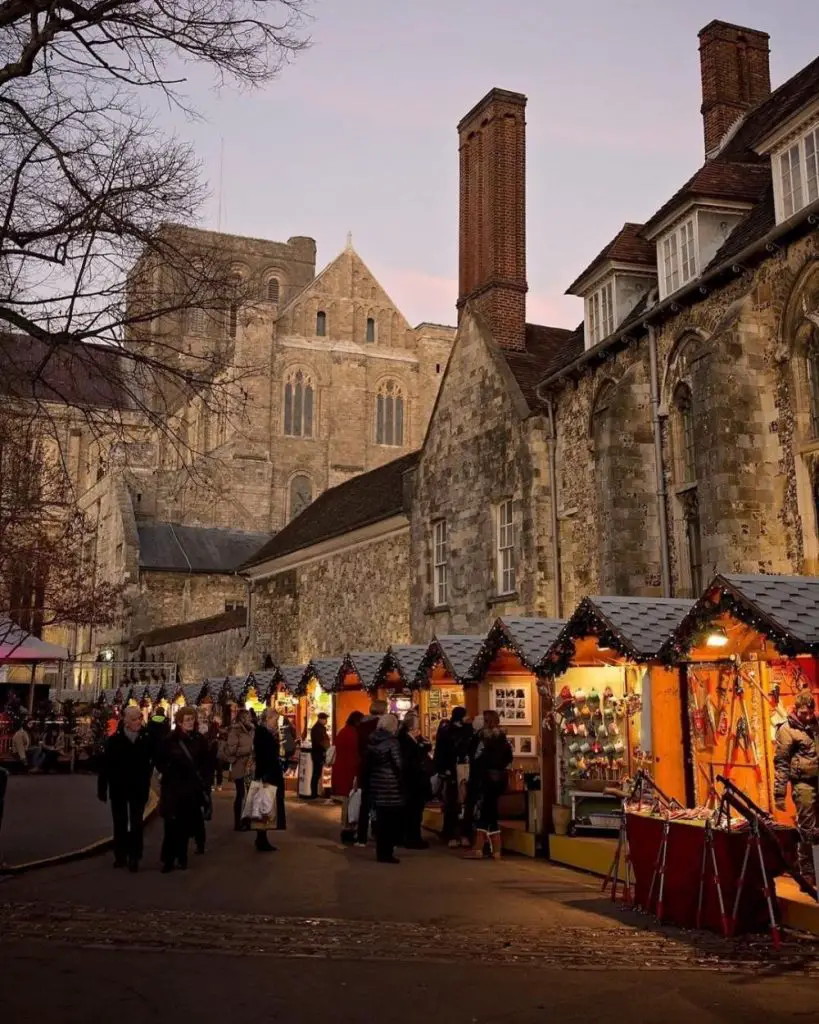 Where: Winchester Cathedral
When: 21 November – 5 January
Winchester Christmas Market is widely recognised in Europe as one of the best markets for its prime location in this historical city, exquisite exhibitions and a beautiful ice skating ring. The exhibition stalls have been handpicked by a panel of experts to showcase high quality and unique products. 
8. Southbank Centre Winter Festival, London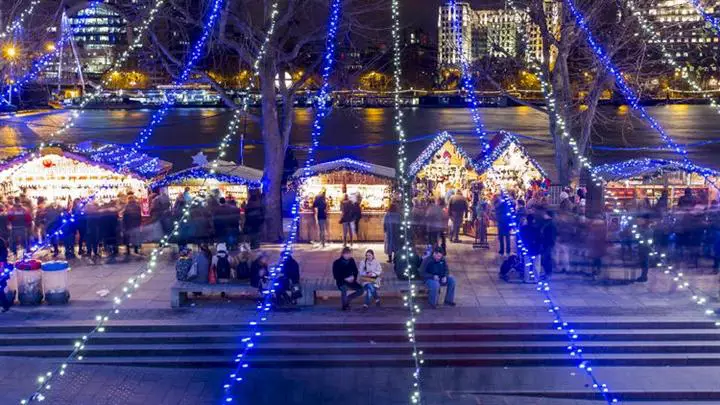 Where: Southbank Centre, London
When: 8 November 2019 – 5 January 2020
Just by the river Thames this Christmas market features a wide range of food and gift stalls. And because you are in the centre of London there are loads of things to do around the area, such as: exploring galleries, watching a movie at the cinema or simply having a drink in the numerous bars around the area.
9. Belfast Christmas Market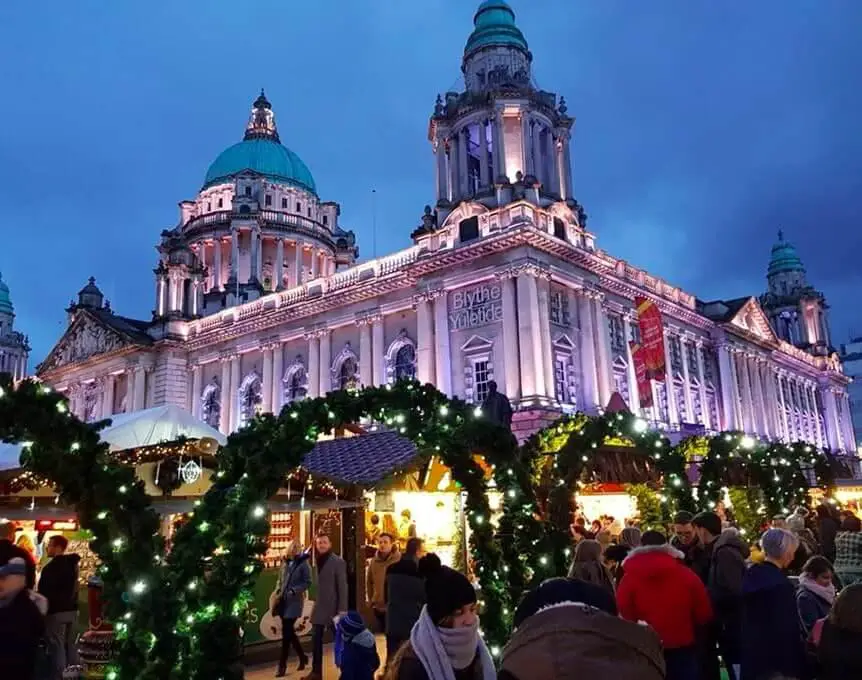 Where: Belfast City Hall
When: 16 November 2019 – 22 December 2019
A beautiful little market in the centre of Belfast opposite the main city hall. You can get all of your traditional Christmas foods such as: Belgium hot chocolate, french crepes, dutch pancakes, bratwurst and other delicious goodies. It is better to visit this market if it is local to you, if you want something a little bit more on a bigger scale then Winter Wonderland would be your best bet. 
10. York Christmas Market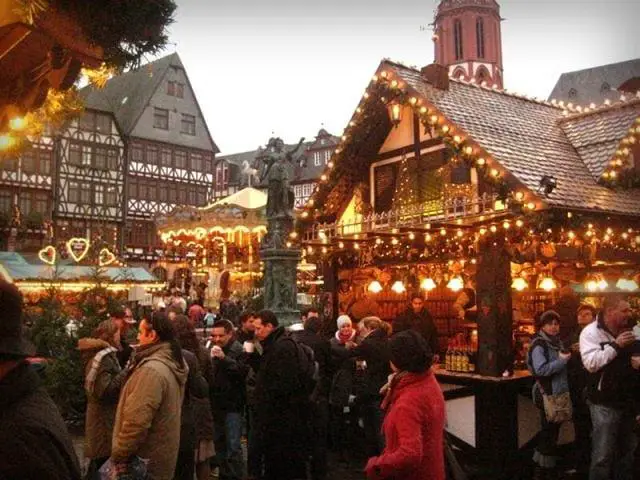 Where: Sampsons Square, York
When: 14 November – 22 December 2019
York Christmas Market has won Best Large Speciality Market at the Great British Market Awards in 2019 for its amazing chalets. This cosy Christmas market has everything you need to kick start that Christmas spirit. There are loads of fun events that will be taking place in York and you can check them out on the official website.