Competition in the world of gastronomy is stiff. So much so that restaurateurs are turning to zany themes to attract the public, though their history is not so recent. Theme restaurants began in the 1930s with a string of Tiki bars opening across the country and bringing a bit of Polynesian exoticism to provincial America. The 1950s saw a string of theme restaurants opening up, mostly in Southern California, using New England fishing villages, World War II and Polynesian islands as themes to draw in the crowds. Since then, theme restaurants have boomed and become more diverse with locals dotted all over the United States and abroad. They have, however, become sophisticated, and at times, freakier. Here's a taste of some of them.
The Modern Toilet Restaurant. Taiwan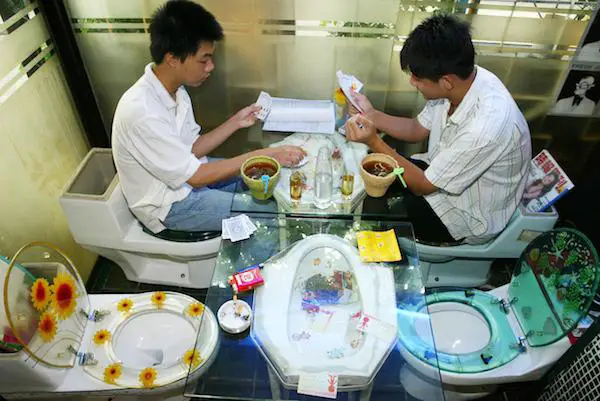 With décor to match its name, the Modern Toilet Restaurant promises a unique, bowel-moving experience. The 2,800-square-foot (260 m2), three-story eatery serves your typical Taiwanese cuisine, but ensures the diner is always aware of the close relation between food and its eventual metamorphosis in your digestive tract. The ceilings are decorated with hanging plungers and feces-shaped lights; the walls bear typical bathroom tiles with showerheads sticking out and your table is actually a bathroom basin; the seats are real toilet bowls. Meanwhile, your meals are served in plastic miniature toilet bowls, and drinks in small urinals. In short, it's the total scatological experience that will delight your palate, your stomach and your intestines. Bon apetit!
Dans Le Noir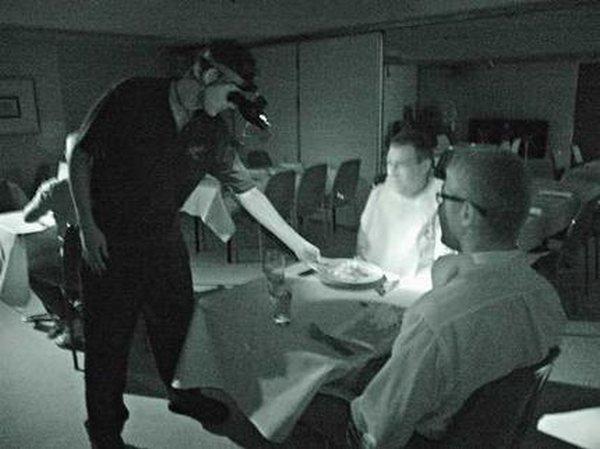 Based on a dining concept called "Dark Dining" where the customers savor their meal in total darkness to better appreciate the flavors, Dans Le Noir opened their doors in 2003 to great expectation, and they haven't pulled the wool over anybody's eyes. Customers dine in a pitch-dark room from a surprise menu and are served by blind or visually impaired waiters. The result is astonishment from the customers who are later showed what they ate; an education in the power of the senses and an introduction to the world of the blind. The restaurant is present in Barcelona, Spain; London, England; St. Petersburg, Russia; and New York City, though this last one didn't fare well and closed down, blinded by success, I guess.
Dinner in the Sky, Nowhere and Everywhere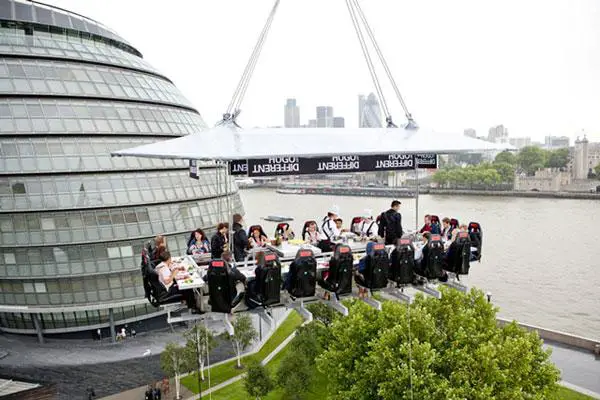 More than a restaurant, Dinner in the Sky is a concept, and a travelling one at that. The concept took form in 2006, when Hakuna Matata, a communications agency specialized in gourmet pleasures, and The Fun Group, a company dedicated to amusement park installations, came together to provide the fine diner with a thrilling experience in haute cuisine.., at 150 meters in the air! Twenty-two diners are strapped into specially built chairs connected to a floorless platform, table included, and hoisted up into the sky to chow down on the best cuisine. Dinner in the Sky is headquartered in Belgium but is present in 45 countries. As David Ghysels, one of the Belgian organizers, said of the venture, "It's a little surreal, but we realized people were getting bored with just going to the same old restaurants. They wanted to try something different. So we decided to push the boundaries. The sky's the limit!" Never better said.
Izakaya Kayabuki. Japan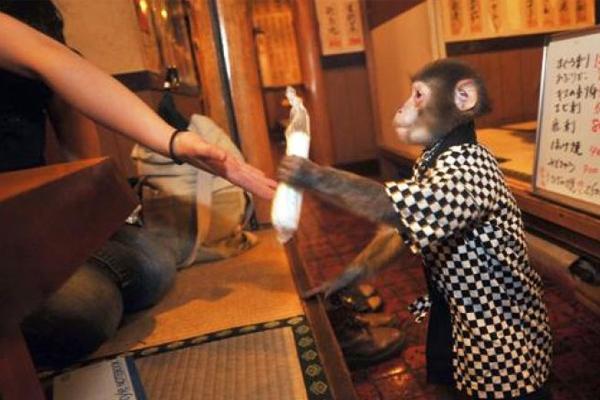 We all know that technology is quickly replacing the human element in all fields of endeavor, but Kaoru Otsuka, the owner of Izakaya Kayabuki, a typical sake house 2 hours north of Tokyo, beat them all to it. Otsuka has hired a pair of macaque monkeys to work as waiters, of sorts. The two monkeys, Yacchan and Fukuchan, take hot towels and drinks to the seated customers; they don't actually handle food. Monkeys, however, are subject to labor laws in Japan. This pair is only legally allowed to work 2 hours a day. No monkey business in Japan, folks.
Isdaan. Philippines
Most restaurants use crockery to hold food; some use fine china, others plain and normal dishes, but they never provide it to be smashed by customers. However, Isdaan, a Thai-inspired (but not strictly!), floating restaurant in Calauan, The Philippines, does. Diners arriving at Isdaan are welcomed by gigantic Buddhas in a placid, oriental style setting. Exploring the grounds, you'll find life-size statues of former presidents and Marvel superheroes (this is where the Thai motif begins to wane) and other statues. Dining is in little huts overlooking a man-made lake with a boating facility. Visitors are encouraged to explore the place while waiting for their order. And if Buddha and the food served at Isdaan are not enough to bring solace to your stressed-out and frustrated soul, you can smash the restaurants crockery, plates, glasses and all, TVs and clocks against a wall or directly on the floor. The vent-your-anger service is not free though; they all come with a price tag.
Dick's Last Resort. USA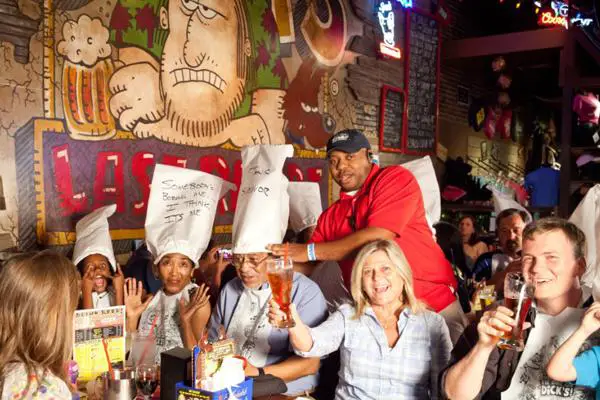 A failed attempt at opening a fine dining venue led a group of restaurateurs to do a complete 360º turn and do the exact opposite. The result was Dick's Last Resort, an incredibly successful chain of restaurants across The Unites States, which offers customers good ole' American food and the most obnoxious and foul-mouthed staff ever. The no-frills décor is the background to the almost humiliating experience voluntarily suffered by their customers. Patrons of Dick's are insulted and embarrassed (all in good fun, but still…) and given bibs and large, hand-made, paper hats to wear while dining. There are no napkins on the tables: They are generally thrown at the customers by the serving staff. The venture has proven to be so successful, that they've opened 17 restaurants across the country.
S'Baggers. Germany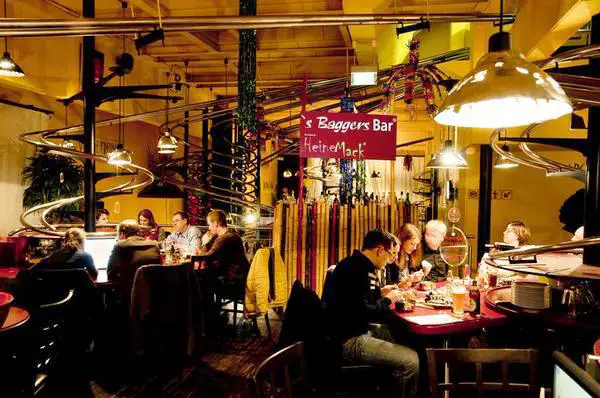 As mentioned before, technology is dead set to replace humans in most or all activities, and there are no monkeys here. S'Baggers, based in Nuremberg, Germany, is a full automated, waiterless restaurant serving the best of German cuisine. Patrons order their food and drinks via a tablet on their table and the food is delivered by a system of mini rails directly to your table. The experience is touted as "unique," and the advantages are that you avoid dealing with an ornery waiter and, presumably, tipping.
The Clinic Cafe. Singapore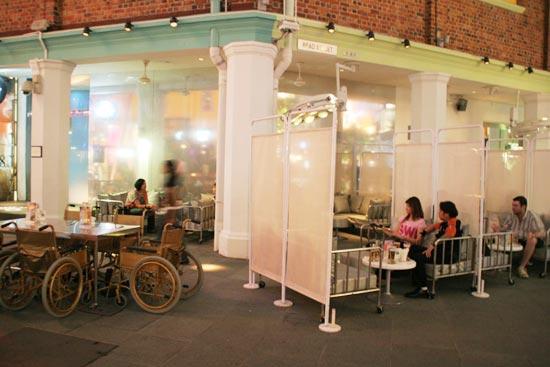 If you thought The Modern Toilet was the ultimate theme restaurant, hold on to your breeches. The Clinic Café is styled after a hospital. Diners are seated at metallic, hospital cafeteria type tables in wheelchairs and have their meals served in surgical pans while the staff is all dressed as doctors, nurses and orderlies. Patrons can choose from a menu cleverly thought out with hospital-themed dishes such as "pills" and "syringes" and the cocktails are served in IV drips with names as "Nitro-Sangria" and "Sex on a drip." The Clinic Café is a homage to British artist Damien Hirst, whose artwork decorates the walls.
Ninja. NYC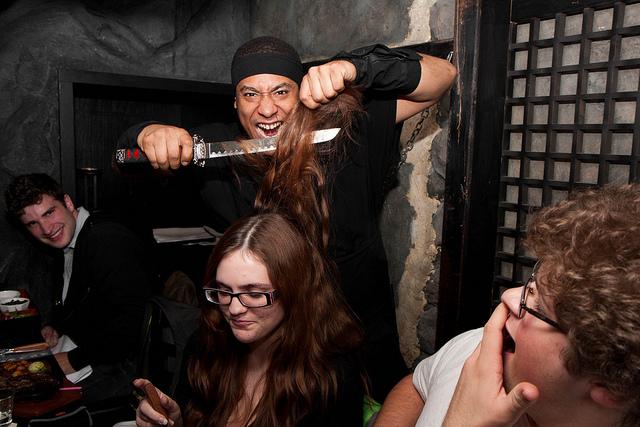 Ninja lures its patrons into a faux, underground maze, meant to evoke a medieval Japanese mountain village inhabited by the mysterious, stealthy warriors. Upon entering, a ninja greets you and leads you through a dark labyrinth before sitting you in a cozy nook. The ninjas act as your waiters and entertainers, performing magic tricks as they serve up dishes of sushi and other delights. The owners reputedly spent $3.5 million to create the cave-like atmosphere.
Redwoods Treehouse. New Zealand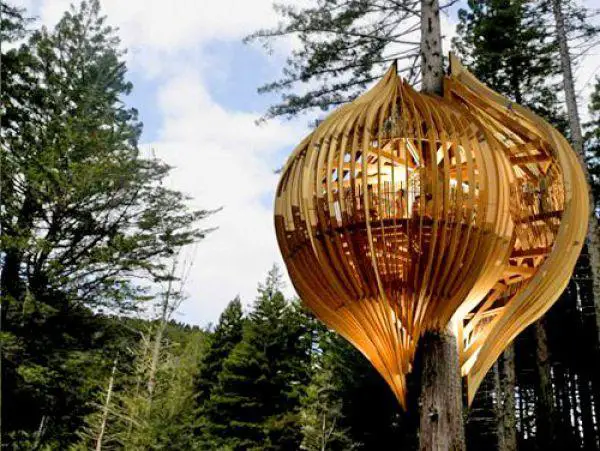 An architectural firm turned this redwood tree into a diner's delight, through a commission from that country's Yellow Pages phone directory. The result is an elegant, weather-resistant pod-shaped structure, sitting 30 feet in the air where 30 guests can dine close to nature. The restaurant-pod can be accessed through a 197-foot (60 meter) elevated treetop walkway, built using redwood that was milled on site. The Redwoods Treehouse is not strictly a restaurant but can be hired for dinner parties, private functions or special events with a range of catering options to choose from.
The Bubble Room. Captiva Island, Florida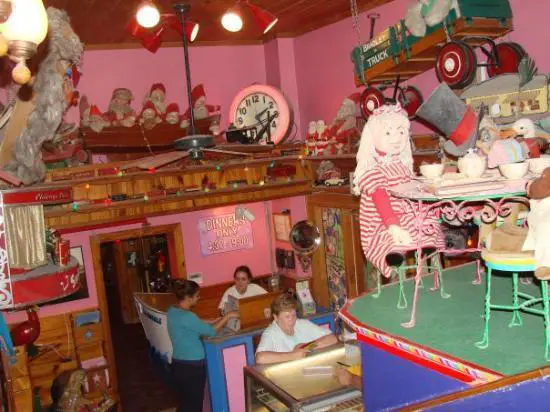 "It's always Christmas at the Bubble Room" is a funny slogan for a restaurant based in Florida, but walking into a place replete with figures of Father Christmas you understand why. Since its opening in 1979 in the front room of the home of the Farqhuarson family, the original owners, with toys from the 30s and 40s of the last century, the restaurant has built up an impressive collection of trinkets and playthings distributed among several themed rooms. The three-storey house is staffed by "bubble scouts", each wearing a different crazy hat. Moving trains are on all three floors and photographs of old-time movie scenes and stars adorn every available wall space.
The Red Sea Star. Israel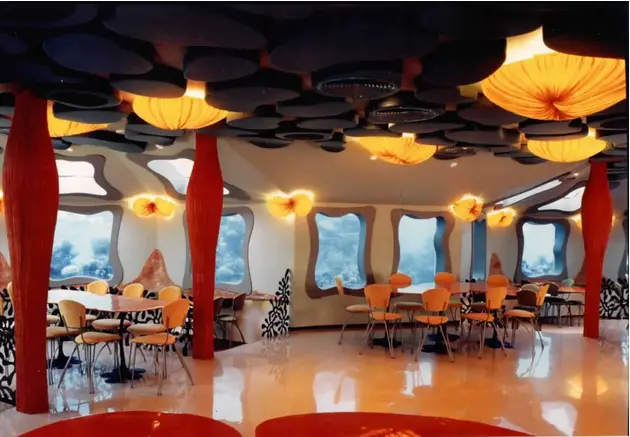 The Red Sea Star offers the visitor two choices: Above or below. Before your dirty mind conjures up unwholesome images, let's clarify that. Above the water's surface is The Metro Bar, with spectacular views of the Bay of Aqaba, where T.E. Lawrence led the Arab Revolt against the Turks in 1917; and below the surface, where the star-shaped restaurant offers its diners a breathtaking underwater view while enjoying a meal. The coral gardens surrounding the Red Sea Star are softly illuminated to provide a glimpse into marine life while preserving the delicate eco-system.
Disaster Café. Spain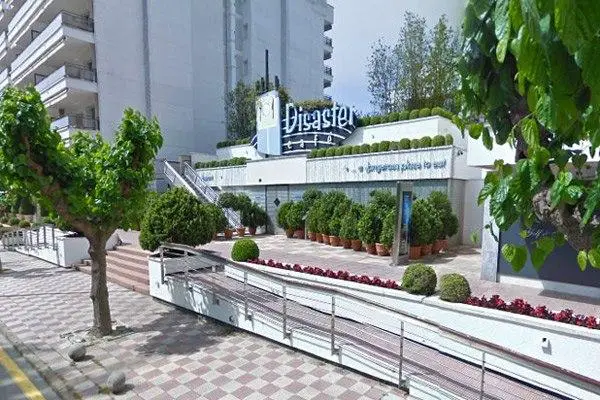 For the ultimate shakily tectonic experience, Disaster Café is the place to go. Disaster is two places: The top floor is an alien-themed restaurant for kids, decorated as a spaceship with aliens and activities for the young ones. But the Richter experience is below ground. An elevator takes the patrons down to the depths of the Earth, where helmeted waiting staff serve your food on unusually heavy crockery. As you're wondering what the get-up is all about, a 7.8 earthquake rocks the place unsettling the diners and their meals. Lights go out, women begin screaming, chairs, tables and everything in the room starts to move and shake and you're helpless. All you can do is wait it out and hope for the best. When it's over, you thank the heavens it was only a simulated quake, but you realize what one would be like; suddenly your appetite disappears.
The Lockup. Tokyo
If you're a horror-movie fan, this one is for you, and it comes from the masters of the genre, the Japanese. The Lockup simulates a haunted prison where the patrons, upon entering, are directed through extremely dark and winding hallways to another dark room and told to find the secret exit that will lead you to the restaurant area. Once you do, you encounter Clive Barker from Hellraiser, strapped to an electric chair screaming his head off as the electricity pulses through his body. Once you enter the restaurant area, you are handcuffed and led to your "cell," or table, and you're "locked up" to order your meal. Obviously, this is not the best way to start a meal. Even the sushi is so scared that it cooks itself in fear, but the Japanese love it.
Harbin Robot Restaurant. China
A completely robotic restaurant in downtown Harbin, China, employs 20 robots instead of humans, that cook, serve and entertain its guests. Patrons are welcomed by a robot that greets them with the words: "Earth person hello. Welcome to the Robot Restaurant" and are then taken to their table. The robots cook a variety of dumplings and noodles, serve the dishes from a conveyor belt, entertain the guests by singing and then clean up after the diners seamlessly. The four-foot robots, which work five-hour shifts before recharging, are a hefty investment by the owners who hope to recoup their money soon by eliminating the human factor.