Atlantis resort in Dubai is considered one of the best resorts in the world. Atlantis the Palm is a massive hotel that has 1,500 rooms, 23 dining outlets and 65,000 aquarium inhabitants. If you book the hotel you also get unlimited access to the Atlantis Aquaventure Waterpark.
Atlantis Aquaventure Waterpark is a home to one off the scariest waterslides in the world! If you like watreslides and want a bit of adrenaline then you came to the right place.
Leap of Faith waterslide (The Tower of Neptune) – Dubai
Is one of the tallest waterslides there is, it drops 60 feet (same height as a 9 storey building) from a Mayan temple into a lagoon full of hungry-looking sharks. Don't worry though the tubes are built out of thick transparent plastic and the ride itself finishes really quickly. The slide itself is very steep so you could experience almost a free fall. 
Source: Atlantis the Palm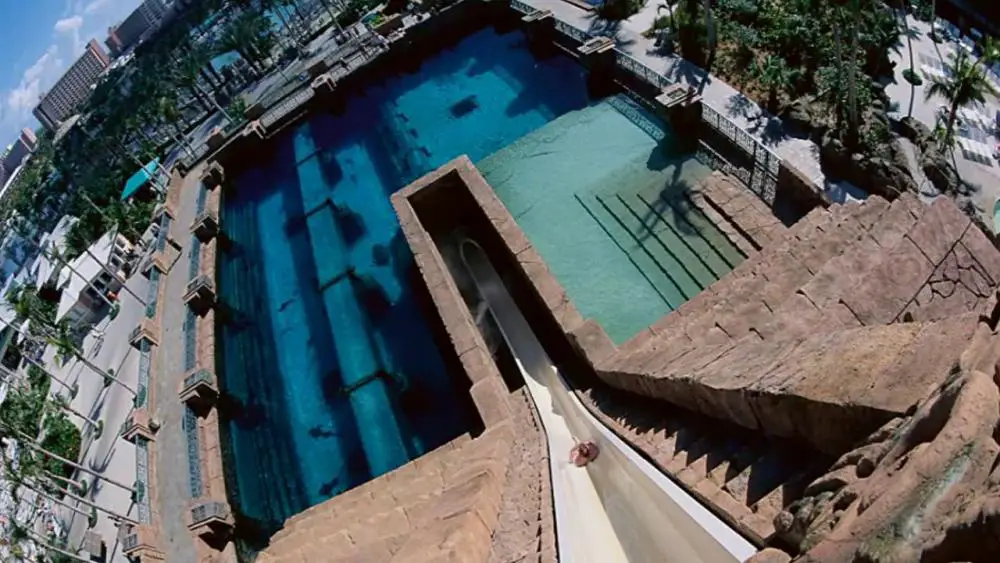 How long is the waiting time for the Leap of Faith? 
From what we have seen most of the users on Tripadvisor say the waiting time is from 30-40 mins and it is better to go on a weekday. 
Is it worth it?
Definitely Yes! It might be a long waiting time and it might look scary, but once you have done it you will feel amazing. 🙂