If you've ever watched the TV programme 'Man vs Food' you will already be familiar with some people's obsession with creating bigger and bigger food and drink. Restaurants and bakeries all over the world have attempted to make giant sized replicas of popular dishes. While many have failed in their quest for greatness, some have spectacularly succeeded, managing to create food so big that you need photographic evidence just to believe it. The following are 10 of the biggest food and drink records ever created…, and some are even available to buy commercially!
World's Largest Commercially Available Pizza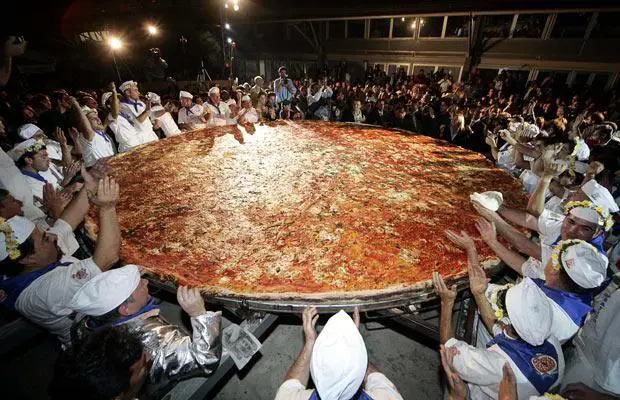 If you think going extra-large on a takeaway pizza is being greedy, you may be shocked by the size of the largest commercially available pizza in the world. The Dirt Road Cookers from San Antonio, Texas, have created a pizza that measures 92.5 inches wide and nearly 50 square foot in total! The giant snack takes eight chefs nearly 2 hours to prepare and cook and is capable of serving over 100 people. A special oven had to be created to cook the pizza, which was a mammoth task in itself: The oven took a year to design and a further year to be constructed before the world record was finally achieved.
World's Biggest Hot Cup of Coffee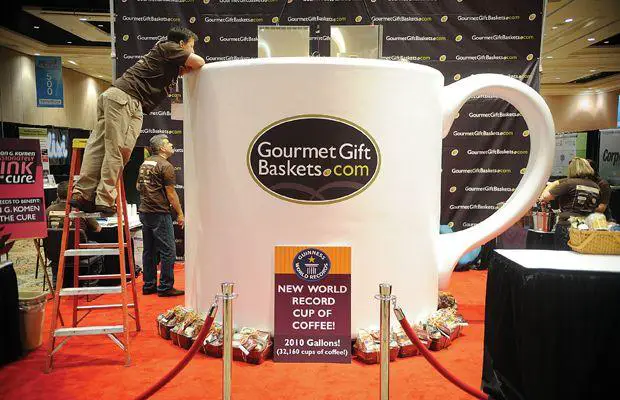 Some people might feel like they need a few gallons of coffee to wake up in the morning but one company has taken this theory a little too literally. In 2010 GourmetGiftBaskets.com created the world's biggest cup of hot coffee at the Blog World Expo in Las Vegas. The giant mug, measuring 8ft x 8ft, contained an incredible 2010 gallons of coffee; that's the equivalent of 32,160 individual cups, more than most people would drink in a lifetime!
World's Largest Commercial Hamburger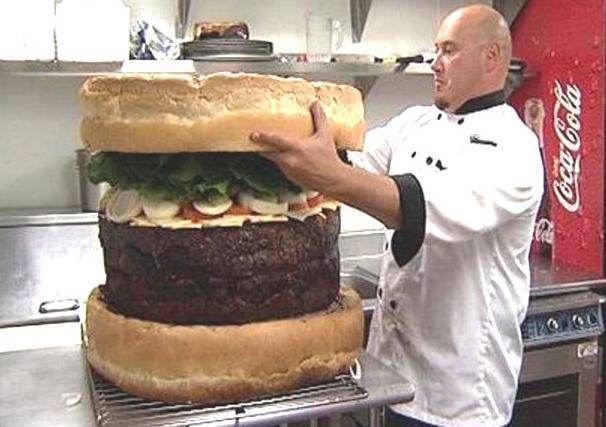 If a giant burger is your idea of heaven, then Mallie's Bar and Grill in Michigan, USA, should be your dream destination. The restaurant serves the 'Absolutely Ridiculous Burger', which is officially the biggest commercially available hamburger in the world. The giant burger takes 12 hours to prepare and weighs in at an incredible 185.6 pounds! Customers wanting to order the burger to 'eat-in' have to provide 24 hours notice and pay $399. If the burger is ordered to be delivered that price increases to $2,000. The burger was featured on 'Man vs Food' but even the famous Adam Richman couldn't finish the 'Absolutely Ridiculous Burger,' managing to get through 160 pounds in two hours.
World's Largest Chocolate Bar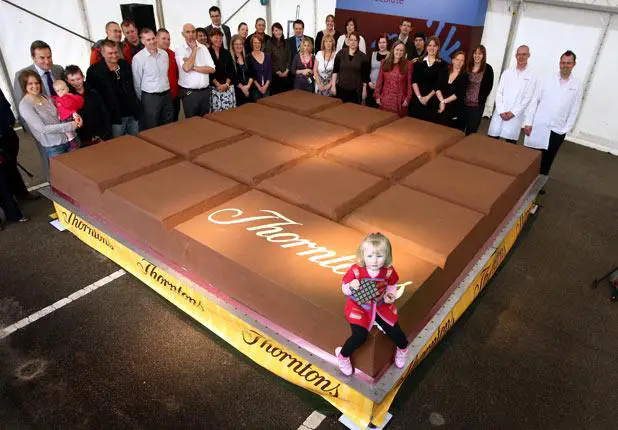 A giant chocolate bar would be many people's idea of heaven and Thorntons in Derbyshire, England, has now made that dream a reality. The company created a huge 4m x 4m chocolate bar in October 2011, weighing an incredible 5,792.5kgs. The bar was created as part of the company's 100 year celebrations and the idea for the huge piece of candy was actually put forward by a member of staff, who's favourite film was Charlie and the Chocolate Factory; Willy Wonka would have been proud!
World's Biggest Doughnut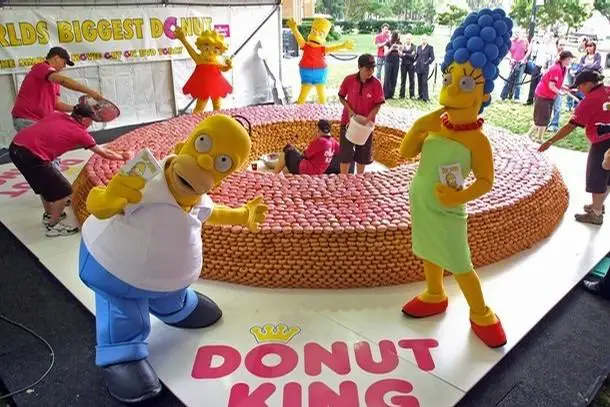 It seems appropriate that one of the biggest doughnut lovers in the world, Homer Simpson, had a hand in creating the world's largest doughnut. The huge snack was made in December 2007 by Donut King, to celebrate the release of The Simpsons Movie on DVD. The huge ring was created from over 90,000 doughnuts and contained over half-a-tonne of pink icing and 30kg of sprinkles. The world record attempt was a team effort and involved 40 people working for over 9 hours to create the six metre and 3.5 tonne giant doughnut. Even Homer Simpson might struggle to finish that off!
World's Biggest Cookie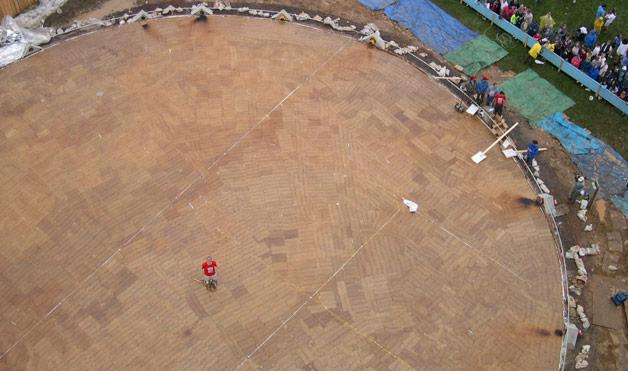 In terms of sheer size, the world's biggest cookie might be the most impressive record on this list. The giant biscuit was created in May 2003 by the Immaculate Baking Company, North Carolina and measured an incredible 30.7m in diameter. The cookie was made from 18 tonnes of chocolate chip cookie dough and was cooked in a giant oven that took over 8 months to design and build. It may have been a long road but the result was the biggest cookie ever made and a world record that has stood for over a decade.
Largest Bottle of Whiskey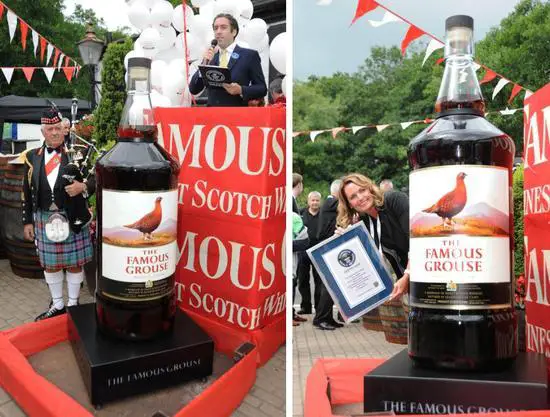 Whiskey is one of Scotland's most famous exports, so it seems only fitting that the country is also home to the largest bottle of whiskey in the world. The giant bottle was created by The Famous Grouse, Perthshire, Scotland, in August 2012 and contains an incredible 228 litres of the company's world famous whiskey. The bottle is nearly 6ft tall and has the equivalent of 9,120 drams of whiskey inside. The bottle was so large that it had to be handmade in the Czech Republic and transported 1,200 miles to Crieff, Perthshire.
World's Biggest Cornish Pasty
If pies and pasties are your idea of food heaven, then this giant cornish pasty will have you salivating at the mouth. The huge pasty was created by Proper Cornish in Bodmin, Cornwall, in August 2010 and measured a staggering 15ft wide, while weighing in at 850kg. The giant snack, which took 11 hours to bake in a specially designed oven, contained 165kg of beef and sackfuls of potatoes, onions and swedes. It certainly wouldn't make a slimmers' club meal list though, as the huge pasty contained an incredible 1,750,000 calories!
World's Biggest Cheesecake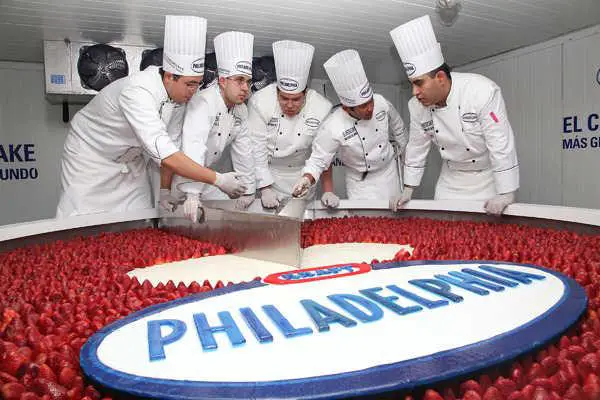 Cheesecake is top of many people's 'favourite dessert' lists but even the biggest appetites would struggle to polish off this cake. The huge dessert was created by Philadelphia Cream Cheese in New York, in September 2013 and measured almost 8 ft tall by 3ft wide. The cake was created for the annual Cream Cheese Festival and weighed in at a monstrous 3,130kg; That's the equivalent of nearly 25,000 individual servings! Thankfully the leftover cheesecake from the festival didn't go to waste and was donated to local charities.
Biggest Bottle of Red Wine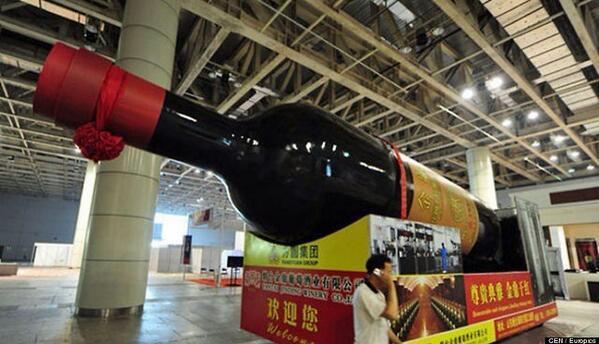 The Chinese are officially the biggest drinkers of red wine in the world, so it may come as no surprise that they also hold the record for the biggest bottle of red wine ever made. The huge bottle was made by Wang Chen Wines, in 2010 and stands at 15ft tall and holds an incredible 1,850 litres of wine; the equivalent of around 60,000 standard glasses of red wine! If you consider that the average household (in the USA) consumes around 9 litres of wine per year, this one bottle would last them over 200 years!